The Toyota RAV4 is a compact crossover SUV (sport utility vehicle) produced by the Japanese automobile manufacturer Toyota. This was the first compact crossover SUV it made its debut in Japan and Europe in 1994, and in North America in 1995, being launched in January 1996. The vehicle was designed for consumers wanting a vehicle that had most of the benefits of SUVs, such as increased cargo room, higher visibility, and the option of full-time four-wheel drive, along with the maneuverability and fuel economy of a compact car. Although not all RAV4 models are four-wheel drive, RAV4 originally stood for "Recreational Activity Vehicle: 4-wheel drive", this has been changed to "Robust Accurate Vehicle: 4-wheel drive", because the aforementioned equipment is an option in select countries. In most markets, the RAV4 is the only compact SUV or crossover available from Toyota.
First generation (XA10; 1994)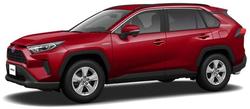 The first-generation RAV4, known as the XA10 series, was constructed on a unique platform that shared Carina and Corolla elements. It launched in Japan in May 1994. Design and development commenced in 1989 under code-name 153T, with design approval and start of production development in the second half of 1991 on the 3-door version and in 1993 for the 5-door version. In March 1995, the 5-door was launched and introduced to the US in January 1996, with standard dual airbags.
RAV4 EV
The RAV4 EV is a plug-in, all-electric variant of the RAV4. Produced from 1997 to 2003 for fleet lease, this "zero emission" model was only offered for public sale for seven months in 2002, in very small quantities in California. Powered by an advanced Nickel-metal hydride (NiMH) battery pack capable of storing 27 kWh, the RAV4 EV can go up to 193 km (120 mi) between charges, and came with a 97,000 km (60,000 mi) battery warranty. A total of 1,484 units were leased and/or sold in California, and as of mid-2012, almost 500 units were still in use.
Second generation (XA20; 2000)
The second generation RAV4, known as the XA20 series, went on sale in July 2000. Like the previous model, the XA20 was available in three- and five-door configurations and was constructed on a platform that shared Carina and Corolla elements. Development began in 1995, with a design freeze in the first half of 1998. Styling was done at Calty Design Research Incorporated (also simply known as Calty) by Yasuhide Hosoda and Kevin Hunter from 1996 to 1997
Third generation (XA30; 2005)
The Toyota RAV4 was redesigned for the 2006 model year, using an all-new platform, and was first unveiled at the 2005 Frankfurt Motor Show. It uses an electric power steering (EPS) system.
The third generation RAV4 is offered in two versions: a short- or a long-wheelbase model. The short-wheelbase model is sold only in Japan, Europe and New Zealand (diesel only in NZ), with the long-wheelbase RAV4 sold in Australia, New Zealand and North America. Since 2007, the extended-length RAV4 is also sold alongside its shorter counterpart in Japan as the Toyota Vanguard, albeit with a revised front-end body work incorporating a revised grille, bumper, bonnet and headlamps. When the larger XA40 arrived in 2012, the short wheelbase model was kept in production for the Japanese market and sold instead of the new version until 2016.
RAV4 EV
Toyota worked together with Tesla Motors to develop the second generation RAV4 EV, and the electric SUV is scheduled for market launch late in the third quarter of 2012. Production will be limited to 2,600 units during the first three years, and sales will be limited to California only, beginning with the San Francisco Bay Area, Los Angeles/Orange County and San Diego.
Fourth generation (XA40; 2012)
The fourth generation RAV4 was a complete redesign; it was revealed at the November 2012 Los Angeles Auto Show. Unlike the previous generations, it featured a rear liftgate rather than a side-opening rear door and no longer had the spare tire mounted on the rear door.
The RAV4 no longer used the V6 from the previous generation—all engine choices were inline four-cylinder engines. Also, unlike the dual wheelbase strategy employed by the previous XA30 model, the XA40 was only sold in a single wheelbase (corresponding to the long wheelbase XA30).
2015 facelift
In 2015, for the 2016 model year, Toyota released a facelift for the XA40 series. The facelift debuted with the RAV4 Hybrid shown at the April 2015 New York International Auto Show. The facelift included redesigned LED front and rear lamps and updated speedometer dials with full color TFT multi information display.
RAV4 Adventure (2013)
The RAV4 Adventure is a concept vehicle that accentuated the car's look to reinforce its off-road capabilities. It included dark red body color, extended wheel arches, 20-inch alloy wheels and matte painted front and rear bumpers.
RAV4 Premium (2013)
The RAV4 Premium is a concept vehicle with Deep Bronze body color, bumpers in Deep Bronze, chrome-finished spoiler, chrome inserts in the rear bumper, brushed aluminium skid plates, integrated tailpipe at the rear bumper, 20-inch wheels, leather interior upholstery designed by Toyota's Kansei design department, seats with black piping and V-shaped outline, two-tone double stitching and grey and black leather on the instrument panel and door panels. Both models were unveiled in March 2013 at the Geneva Motor Show.
RAV4 safety
In the Insurance Institute for Highway Safety (IIHS) evaluations, the 2013 and 2014 model year RAV4 achieved a "good" crashworthiness rating for head restraints and seats, roof strength, side, and moderate overlap front, while achieving a "poor" rating in the IIHS Small Overlap Frontal Test. Modifications were made starting in the 2015 model year which increased the small overlap front rating to "good".
Fifth generation (XA50; 2018)
The fifth generation RAV4 was unveiled at the 2018 New York International Auto Show. The design was previewed by the FT-AC concept shown at the December 2017 Los Angeles Auto Show. It is based on the front-wheel-drive Toyota New Global Architecture (TNGA-K) platform, which is also shared with eighth generation Camry, fifth generation Avalon and seventh generation Lexus ES. Both 4-cylinder gasoline-powered and gasoline-electric hybrid (Hybrid Synergy Drive) variants would remain available.
RAV4 PHEV
The RAV4 PHEV (RAV4 Prime in North America) was unveiled at the December 2019 LA Auto Show. It is powered by a differently-tuned 2.5 L A25A-FXS engine with the same power output as the standard hybrid version but with uprated torque to 228 N⋅m (168 lb⋅ft) at 2,800 rpm. It has a total power output of 225 kW (302 hp), which is 62 kW (83 hp) higher than the regular hybrid version. The RAV4 PHEV has a claimed acceleration from 0–97 km/h (0–60 mph) in 5.8 seconds and 0–100 km/h (0–62 mph) in 6.2 seconds. The sales have begun in Japan since 8 June 2020.
RAV4 safety
In September 2019, Teknikens Varld ran both the gasoline and hybrid versions of the RAV4 on the moose test, where both vehicles failed. The testers noted "dangerous behavior" on the cone course, and that the electronic stability control "engaged very late", causing both vehicles to hop up on their outer tires multiple times during the test. In response of Teknikens Värld allegations Toyota issued a software update. In January 2020, Teknikens Värld retested the model giving it a passing mark.
References